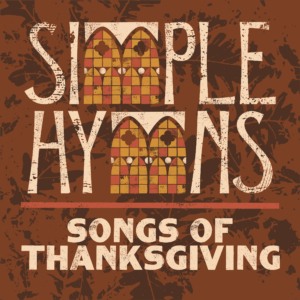 The third of several new albums in the Simple Hymns series to release over the next several months, Songs of Thanksgiving combines classic Hymns with a fresh interpretation, some with additional lyrics, as well as new songs that have been written and recorded in a hymn-like style and focusing on the Majesty and Greatness of God.
Simple Hymns: Songs of Thanksgiving features such well-known worship leaders as Pat Barrett (Housefires), Leigh Nash (Six Pence Non The Richer), Derri Daugherty (The Choir), Anthony Skinner, Kelly Minter and more.
Some of the classic hymns in this third Simple Hymns installment include songs written by Fanny Crosby and Charles Wesley, as well as Ludwig van Beethoven, Johann Schütz and Francis Cox.
Featured tracks include Keith & Kristyn Getty and Stuart Townend's "Come People Of The Risen King" performed by Pat Barrett, Ludwig van Beethoven's and Henry van Dyke's "Joyful"with a fresh interpretation from Brenton Brown and Jason Ingram, Charles Gabriel's "The Glory Hymn" with a modern interpretation by Steve Hindalong and Ian Cron, performed by fellow Choir member Derri Daugherty, Johann Schütz and Francis Cox's "To God All The Praise" with a fresh interpretation and performance by Anthony Skinner, Charles Wesley's "Rejoice The Lord Is King" performed by Savannah Ellis, and Fanny Crosby's "Sing All The Earth" with a fresh interpretation by Anthony Skinner, Lynsey Berry and John Hartley, performed by Lynsey Berry and Anthony Skinner.